Jump straight to the referral form.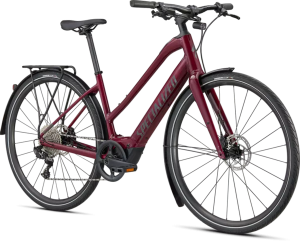 Strive is doing really well these days and we're looking to scale.  But who wants to give all their marketing money to Google and Facebook?  No one!  So let's give it to friends and business colleagues instead!
We are having a referral contest and the winner gets a free E-Bike!  This isn't your old school "run 5 miles and the battery dies" e-bike either.  It's a Specialized Vado that retails for $4000, runs for 90 miles, and gives you 4x your own pedal power!  There's even phone app that will let you track your rides, battery, and disable the motor to thwart bike thieves! (If you really have your heart set on this bike but want a similarly priced mountain/road/cruiser option instead, we can do that for you!)
For every referral you send our way, we put your name in a big digital hat.  If you're an existing client, we'll also send you a $25 Amazon gift card, just to say thanks.  Once 5 referrals from the contest become customers, we will draw a name from the big digital hat, and deliver a brand new E-Bike to their door!
Here are the rules:
To make your referral count toward the contest, please only refer business owners/CEOs of businesses that have 10 or more computers & employees in the Boulder/Denver/Longmont area. Unfortunately, home-users, retail stores, and restaurants aren't a great match for us, as we're specifically geared to help small and medium businesses like you.
We need to get the referral by Labor Day, 2023. They DON'T have to talk with us, meet with us, or buy from us before that date to count, but we have to have them in our hands by then.
Please only refer someone who knows you, and who will be expecting us to call. It would be greatly appreciated if you would shoot them a quick e-mail to introduce us. It will take the surprise out of our call. (If you don't have the time to write a good email, click here for a template email that gives them a "heads up" that we'll be calling them.)
We'll Also Make It Worthwhile For The People You Refer!
Because you're a win/win/win kind of company, we'll give the people you refer a FREE Cyber Security Risk Assessment and Dark Web Scan – a service we typically charge $2,000 for.
At the end of this assessment, they will know, without a shadow of a doubt, if their data, computers and network are TRULY SAFE from a ransomware attack. With the nonstop news alight with all the cyber-attacks, I thought this would be something anyone would appreciate having done, particularly if they are unsure whether their current IT company is doing a good job for them.
I think it goes without saying that we'll treat your referrals with "white gloves" and ensure we deliver value even if they decide not to use us for IT support.
If you don't have the time to write a good email, I've included a template here that will give them a "heads up" that we'll be calling them.
Who Makes A Good Referral?
You might be wondering wracking your brain trying to think of several good companies to refer us to.  Let us help you out!  Our company has a mission of making a positive impact on people's lives (click here to read more about us).  So we are trying to work with companies that are mission-driven and have improving the world in some way as their business model.  Here are a few great examples:
A community-based health care practice that is not affiliated with a hospital (because they get their IT through the hospital).
Dentists
Employment agencies
Nursing homes
Natural foods manufacturers
Outdoor/sporting goods manufacturers
Bio tech and "small pharma"
Accountants and lawyers out that that are "the good ones" (you know the ones we're talking about)
Are these the only companies we will work with?  No, we specialize in all companies with 10-100 employees in the Front Range.  But if you're going to ask who we love working with, it's the type of group in that list above.
I'm In!  How Do I Make A Referral?
Just fill out the form below and let them know we'll be contacting them! (Here's that template email again)